O. James Samson - September 26, 2007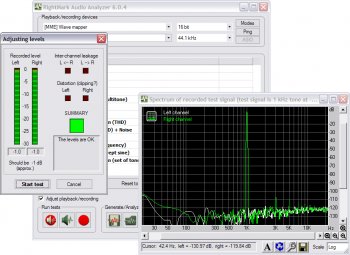 Sometimes you just can't get the right sound out of your computer's speakers no matter what you do. The RightMark Audio Analyzer was designed to help you troubleshoot these problems so you can get the absolute best signal from your speakers. By testing the sound card and other audio related devices in your computer, RightMark gives you a visual representation of what is happening with the audio signal as it passes through the inner workings of your computer.
RightMark has created custom audio clips which are played through your speaker and then rerecorded from the other side. You are then given a graph which allows you to see sound levels and other information such as individual speaker performance.
The latest edition of RightMark's Audio Analyzer has been greatly improved with better stability, and even more user options for flexibility with the tests you perform. Currently this software is only available for Windows operating systems, but if the program continues to grow in popularity there will surely be more releases made.
To check out your free copy of this program and start testing your audio system go to: http://audio.rightmark.org/
This entry was posted on Wednesday, September 26th, 2007 at 6:32 am and is filed under Audio, Developer, Freeware, Information Management, Main, Utilities, Windows. You can follow any responses to this entry through the RSS 2.0 feed. You can leave a response, or trackback from your own site.