O. James Samson - September 28, 2007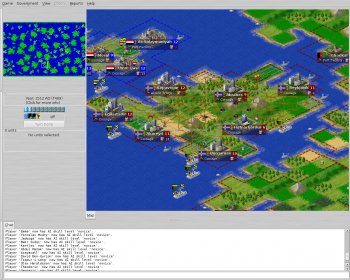 If you are looking for a fun way to keep yourself entertained, but you don't want to go out and spend a ton of money on video games or movies, Freeciv may be just the thing for you. Available for both Macintosh and Windows, Freeciv is an open source game which allows you to build your own civilization and try to be the best ruler in the world.
While the game is very similar to the Civilization series, it also has its differences. In any case, Freeciv can afford you a ton of joy and entertainment without an unreasonable price tag. Plus, it is much more flexible with your operating system than many of the more popular games.
Whether you want to start a game with your friends or play alone, Freeciv has tons of options and you can even customize the rules of game play to make your game more or less difficult depending on your skill level.
To start playing now, check out: http://www.freeciv.org/
This entry was posted on Friday, September 28th, 2007 at 6:34 am and is filed under Freeware, Fun, Games, Internet, Mac Stuff, Main, Windows. You can follow any responses to this entry through the RSS 2.0 feed. You can leave a response, or trackback from your own site.