Ciaran Moore - October 5, 2007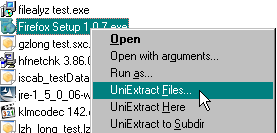 Universal Extractor is a neat little tool to extract files from archives. The most common File archive file formats you're likely to find online are zip and rar, but there's also many others too. This program lives up to its name by being able to extract them all.
Here are some of the more common formats it can handle: .7z, .exe, .bin, .cue, .tar.gz, .img, .deb, .rpm, .cab, .rar, .dll, .jar, .xpi. For the full list of all the formats it supports (quite a lot!) click here.
It's a useful tool for peaking inside installer package files to see whats exactly in them before installing.
So this is a useful tool for people such as programmers and IT people who might be working with several different archive types from time to time.
More info and download available at the homepage here.
This entry was posted on Friday, October 5th, 2007 at 9:04 am and is filed under Archive, Freeware, Internet, Main, Windows. You can follow any responses to this entry through the RSS 2.0 feed. You can leave a response, or trackback from your own site.