O. James Samson - November 28, 2007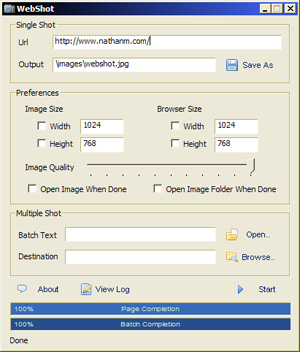 Need a tool to take screenshots and thumbnails easily? This should help you out.
WebShot is a simple utility that gives you the ability to take screenshots and thumbnails of webpages or websites.  With this simple but tool software you can take screenshots of a single webpage or screenshots of multiple webpages in batch mode. But the simplicity should not turn you off if you are an advanced kind of user because Webshot also comes with a command line executable for advanced users.
In the recently released version there are  new changes including:
Fixed multi-threaded async pluggable protocol
Compiled with Microsoft Visual Studio 2008
Want to try it out? It's freeware!!! Go to http://www.websitescreenshots.com/
This entry was posted on Wednesday, November 28th, 2007 at 7:28 am and is filed under Developer, Internet, Main, Shareware, Utilities, Windows. You can follow any responses to this entry through the RSS 2.0 feed. You can skip to the end and leave a response. Pinging is currently not allowed.