O. James Samson - December 6, 2007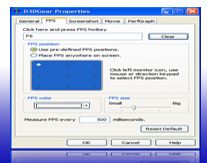 Here is a useful tool worth checking out.
D3DGear is an advanced utility for Windows DirectX & OpenGL games. The cool thing about this software is that it automatically measures a 3D game's frame rate and displays it on screen. It allows you to customize font color, size and position of the frame rate display.
It is easy to use as it can capture 3D game screenshots with the press of a hotkey, and automatically save screenshots into a file. You can define screenshot hotkey, save file format and save file directory. One other thing I love about it, is that D3DGear also can record 3D games to movie.
In the recently released version, the bug that didn't allow D3DGear to work with the game Shaiya has been fixed.
Go check it out at http://www.d3dgear.com/
This entry was posted on Thursday, December 6th, 2007 at 9:03 am and is filed under Commercial, Developer, Flash, Main, Photo, Programming, Shareware, Utilities, Windows. You can follow any responses to this entry through the RSS 2.0 feed. You can skip to the end and leave a response. Pinging is currently not allowed.