Tilgore Kraut - December 26, 2007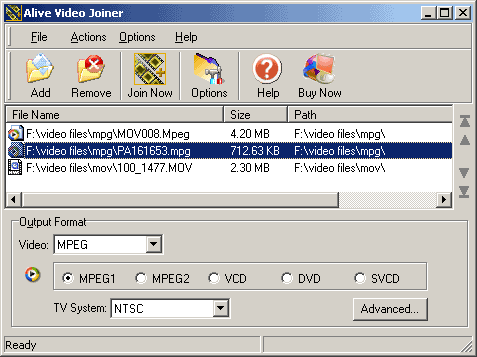 About: Multiple video files can be joined into one large file in AVI, MPEG, WMV, or RM format.
Pros: Alive Video Joiner allows you to add an unlimited number of video files to the list and rearrange their order you needed, then merge the videos files to a large movie file in various formats. Alive Video Joiner is a video tool to Join multiple video files into one large file in AVI, MPEG, WMV, or RM format. One can combine multiple AVI, MPEG, WMV or ASF files into one large video file, and save as AVI, MPEG, WMV, RM format. Alive Video Joiner supports encoding AVI with DivX, XviD, MPEG-4, and encoding MPEG with MPEG-1 and MPEG-2, DVD, VCD, SVCD.
The user interface is simple and easy to use. Few controls and arranged without any clutter. Conversion formats can be chosen with mouse clicks and the splicing started. When it works, it works quite easily. See my comments on the cons section in this regard. Audio volume as well as height & width adjustments are possible.
Cons: Does not appear to be a stable version. In my limited testing of 3 attempts, there were problems twice. I tried file1 & file2 in WMV format and tried creating a joined file in AVI. That worked. Added a file3 to the mix and there was an error about format. Now tried the same file3 and file 1, joining happened without error. But when played, file3 part worked fine but file1 ran at faster speed.
Overall: In view of the problems that indicated this is not really a production worthy package yet, I would rate it at 2 stars.
This entry was posted on Wednesday, December 26th, 2007 at 6:06 am and is filed under Movies, Multimedia, Shareware, Utilities, Video. You can follow any responses to this entry through the RSS 2.0 feed. You can skip to the end and leave a response. Pinging is currently not allowed.