Tilgore Kraut - December 26, 2007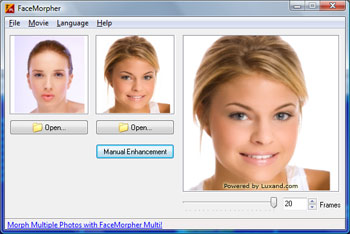 About: Simple to use application that morphs one face into another. Just load the two faces and play.
Pros: Morphing is one scene changing into another. Usually takes quite a bit of skill to identify control points and arranging the two pictures properly. FaceMorpher Lite 2.1 is actually a light version that allows one face to be morphed into another. You would not be using this for scenes in a movie like the Terminator but works pretty well to provide fun and amusement.
Facemorpher supposedly identifies the facial features to mark the control points to be used for morphing. The user interface is simple and consists of three windows. Two for the faces to be used for morphing and a third window that shows a short video showing one face getting morphed into another. This could be saved as an AVI file and later used for animated GIF item on a website or as a flash movie.
Cons: For best effects both face pictures need to be looking straight to the camera, full face front and similar orientation. That limits the utility of the application but then it is this trade off that is the attraction of the package. It is not meant to be a general morphing application. Given the set pictures, you get a quick morphing effect fast. One would need to prepare two images that are oriented similarly as far as possible.
Overall: For the stated purpose the package does its job well. The FaceMorpher Lite interface is really simple to use, just browsing through the interface and picking the two facial images. Overall rating 4 stars.
This entry was posted on Wednesday, December 26th, 2007 at 7:56 am and is filed under Developer, Fun, Windows. You can follow any responses to this entry through the RSS 2.0 feed. You can skip to the end and leave a response. Pinging is currently not allowed.