Tilgore Kraut - December 29, 2007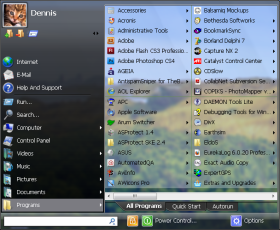 Now you can get rid of your boring Start Menu; find the applications, configure settings, etc in an easy and effective manner. With the Vista Start Menu SE 2.7 software you would find it easy to find the required program with just one glance at the menu. It would provide you with a Start Menu section that looks amazing and makes programs very accessible. It would relieve you from clicking again and again for opening the required folder.
Vista Start Menu SE 2.7 software provides you with all new Start Menu for your PC. You can explore all the files and folders through the menu itself with few simple keystrokes. The appearance of the Start Menu is pleasant and gives a stylish look. Install and start working. It shows you all the applications and programs listed with it. Press the number assigned to the application or surf along it with the keys. You can straight search the program by typing any the keyword matching the name and it show the list of the related programs on the left top side of the screen. You can switch users, log off, shut down, restart, hibernate or have the stand by mode activated by pressing the keys assigned to it. When you click on any of the program on the right side it shows all its contents.
You are also provided with a Customize Wizard that lets you change the buttons and other features according to you're convenience. Run, internet search, find the programs, files, etc easily and also you can go for the Quick Start, Auto run programs. You can reduce or increase the size of the Start Menu window. You would love to work with it as all would become easier and faster to operate.
This entry was posted on Saturday, December 29th, 2007 at 8:03 am and is filed under Design, Desktop, Developer, Shareware. You can follow any responses to this entry through the RSS 2.0 feed. You can skip to the end and leave a response. Pinging is currently not allowed.