Ciaran Moore - January 11, 2008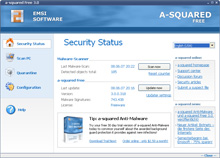 As you probably know by now (hopefully), its essential these days to have an anti-malware/spyware/adware scanner. Along with the mandatory protection of an antivirus program of course.
A-Squared Free is ,as the name implies, a free scanner for scanning your computer for nasties that may have crept on behind the scenes. It contains a massive database that is very regularly added to, just be sure to update it each time before you run it. I advise doing a full system scan the first time you use it, but you can also use it by right clicking on a folder and choosing it from the context menu to scan that folder. Its extensive and growing database of Trojans, Spyware, Adware, Worms, Keyloggers, Rootkits, Dialers and other such unwelcome guests on your computer makes this another powerful tool in the ongoing job of keeping your computer secure and private.
Its interface is neat, easy on the eyes and simple to use. It currently has over 4 million users, so they must be doing something right!
You can find out more info and download it by clicking right here.
This entry was posted on Friday, January 11th, 2008 at 5:28 am and is filed under Developer, Freeware, Main, Security. You can follow any responses to this entry through the RSS 2.0 feed. You can skip to the end and leave a response. Pinging is currently not allowed.