Tilgore Kraut - February 16, 2008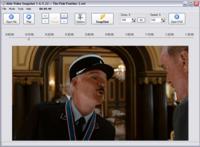 When you watch you favorite movie on your DVD, many a times you might have felt like taking snaps of your favorite scenes. You can make this possible with the DVD Snapshot 1.5.5. It helps you to take the snapshots from the DVDs easily by selecting the exact point from where you want to take the shot. You can effortlessly capture freeze frame image and save the image with you. In addition you can make the images, the cover of your slideshow or DVD, etc and then share these pictures with your family and friends.
To get these spectacular snapshots you just need to install DVD Snapshot 1.5.5 in your system and get started. Make the selection of the video and open it with the DVD Snapshot program. When you are ready for the snapshots then you can begin making the selection for the points on the DVD for taking the snapshots. Play the video from the options given on the top and you can select the scene while viewing it. To play the video you need not to move to any other program or screen for it but it gets played in the same program. Pause it and place the pointer at the time duration where you liked the shot. You need to watch care fully for deciding for which you can choose the level of the speed and even have the view zoon in or out. Capture the shots and the program would ask you to save the image on your hard disk. You can have the camcorder being transformed into a digital camera that can take virtual snapshots of the captured video. You can have the images taken and used for various purposes.
DVD Snapshot 1.5.5 is capable of taking images from the DVD movies or other videos in a seamless manner with high quality. You can use the images for the slideshow title, send the images to your friends, even get them printed and place them on your room's wall, etc.
This entry was posted on Saturday, February 16th, 2008 at 7:48 am and is filed under Design, Developer, DVD, Shareware, Utilities, Windows. You can follow any responses to this entry through the RSS 2.0 feed. You can skip to the end and leave a response. Pinging is currently not allowed.