O. James Samson - March 12, 2008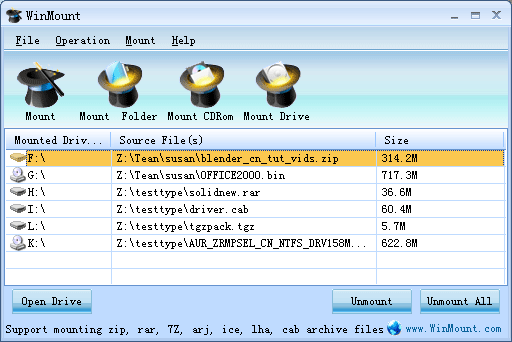 Need help in managing your compressed archives effectively and conveniently? Well, WinMount is a Windows utility which helps to do just that. With WinMount you can mount ZIP, mount RAR or ISO file to a new drive so that you can use those files inside directly instead of extracting them first which would take more time and consume much disk space.
WinMount was last upgraded on February 29, 2008 with these changes made:
Fixed the bug of "Auto run the mounted driver" in the settings
Fixed the bug on mounting SFX archives
Fixed other bugs
For more info on WinMount, visit www.winmount.com
This entry was posted on Wednesday, March 12th, 2008 at 5:40 am and is filed under Main. You can follow any responses to this entry through the RSS 2.0 feed. You can skip to the end and leave a response. Pinging is currently not allowed.