O. James Samson - March 13, 2008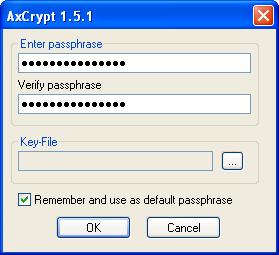 There are many different encryption programs that are available on the market but as is so often the case for specialized programs the ones that work the best turn out to be the ones that are free! This is extremely true of encryption as AxCrypt is most definitely one of the best encryption programs out there and it happens to be free as well. The program's aim is to allow quick and easy encryption of any filename through utilization of the AES algorithm.
The end result of an AxCrypt process is an encryption with 128-bit keys that is symmetrical in nature. It also allows the encrypted files to be compressed as well as editing with just two clicks of the mouse. When your file has been encrypted the file type changes from whatever it was to start with to the new AxCrypt encrypted file that possesses an extension of .axx and has a completely different icon from any other file type that you would normally see. The newest version of the program was released just a few days ago and it allows AxCrypt to become more aware of Windows Vista.
More information is available at http://www.axantum.com/AxCrypt/
This entry was posted on Thursday, March 13th, 2008 at 1:54 am and is filed under Developer, Encryption software, Freeware, Main. You can follow any responses to this entry through the RSS 2.0 feed. You can skip to the end and leave a response. Pinging is currently not allowed.