O. James Samson - March 17, 2008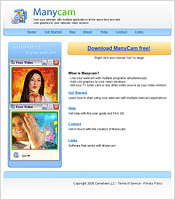 Have you ever imagined being able to use your webcam in more than one application at a time? Yes, it's possible with tools like Manycam. This is a program which makes this possible by splitting one video stream into several video streams. Sounding good? Well, give it a try, and choose Manycam virtual Webcam as the video source in your webcam applications. There are some features you can also add to the video stream by using Manycam, such as time, text and funny animations.
Manycam just got better with its latest update on march 13 with these latest features:
Create, add and submit new pre-made ManyCam effects;
New video source "Custom Desktop";
New "Drawing over video" effect;
Additional features in "Text over video" effect: multiline input text, transparent background and text, color background;
Gif files support in "Still Image" video resource;
Pause, Stop buttons in Movie Source.
You can get more information on www.manycam.com
This entry was posted on Monday, March 17th, 2008 at 6:19 am and is filed under Developer, Main, Video, Webcam, Windows. You can follow any responses to this entry through the RSS 2.0 feed. You can skip to the end and leave a response. Pinging is currently not allowed.