O. James Samson - March 21, 2008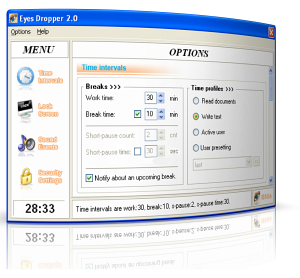 If like me you spend more time on the "puter" than you'd like to count then the software is something you should check out. It's called Eyes Dropper.
It basically reminds you about rest-time and by so doing help save your eyesight. Does that sound ridiculous? Well, not really if you take your time to think about it. Staying glued to your pc all day is definitely not good for your eyesight, I should know, I wear thick lenses.
Now this software allows you to customize the duration of your work time and length of breaks. During the break you may exercise your eyes, look away or look at distant objects either in your office or outside, take a stroll outside your office. Sounds simple, right? But it's very effective. Just one problem, I don't agree with $20 price, this should be a freeware not shareware. But then give the trial version a shot and be the judge.
You can check it out http://duodimension.com/eyes_care_child_health/eyesdropper_1_overview.htm
This entry was posted on Friday, March 21st, 2008 at 5:20 am and is filed under Main. You can follow any responses to this entry through the RSS 2.0 feed. You can skip to the end and leave a response. Pinging is currently not allowed.