O. James Samson - August 18, 2008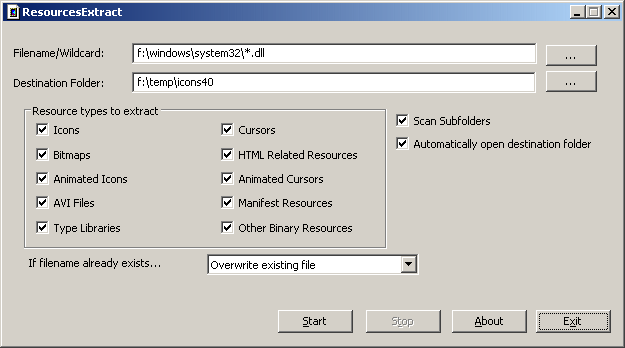 There are a number of interesting freeware files on the market today, but there are few that are as interesting as Resources Extract. The latest version of this excellent piece of software was just released the other day and it contains a number of features that you will undoubtedly find very interesting.
For starters, Resources Extract has a primary function of being able to scan different file types and then remove resources from those files for your personal use in a separate folder of your choice. The files that it has the capability to scan are .dll, .ocx and .exe files and the resources that it can extract include .bmp, .avi and .html files primarily as well as a number of other formats for text, images, multimedia and a number of other things that might come in handy.
So, what exactly does this mean? Simply put, it means that you can go into any file with one of the three file extensions mentioned above and extract any resource from that file so long as it is one of the things the program can do. This allows you to borrow icons, pictures, movies and many other aspects of different files if you decide you like them and would like to use them somewhere else. This can be very useful, especially if you use my .exe files that would have things of that kind.
More information on this software is available at http://www.nirsoft.net/utils/resources_extract.html/
This entry was posted on Monday, August 18th, 2008 at 7:04 am and is filed under Main. You can follow any responses to this entry through the RSS 2.0 feed. You can skip to the end and leave a response. Pinging is currently not allowed.