O. James Samson - August 28, 2008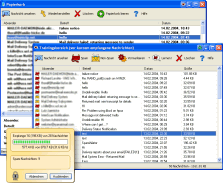 Here is useful freeware worth checking out!
Spamihilator simply annihilates spam, hence the name spam annihilator. It simply examines your Emails while downloading from the server and deletes unwanted advertising messages. You will love the fact that it works between your Email-Client-Software and the Internet. Such that every time you receive messages, they will be checked. Useless spam mails will be filtered out.
One thing I like about this software is that it runs virtually with almost every Email-Software such as Outlook 2000/XP/Express, Eudora, Pegasus Mail, Phoenix Mail, Opera, Mozilla, Netscape, etc.
A new version hit the software market just yesterday- Spamihilator 0.9.9.42. The latest changes in the new version include:
New Link Filter
The performance of the Training Area and the Recycle Bin has been increased (especially when displaying more than 1000 messages)
The usability of the Training Area and the Recycle Bin has been improved. In particular it is now possible to switch between these two windows by a small button in the menu bar, even under Windows Vista
A bug in the HTML mail parser has been fixed. This increases the recognition rate of all filters
Fixed IMAP SEARCH command
Two bugs in the mail date parser have been fixed
And lots more.
For more info on the new version and download check http://www.spamihilator.com/
This entry was posted on Thursday, August 28th, 2008 at 6:35 am and is filed under Main. You can follow any responses to this entry through the RSS 2.0 feed. You can skip to the end and leave a response. Pinging is currently not allowed.