O. James Samson - September 11, 2008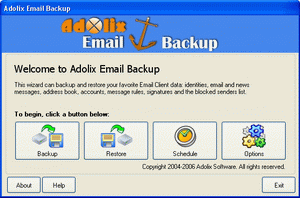 There is an email back up that conveniently backs up email information of top email clients. Data like message rules, emails, accounts, address book, blocked senders lists settings and signatures are backed up by Adolix Email Backup
Adolix Email Backup is beneficial in that it supports Eudora, Incredimail, Outlook express and MS Outlook. Also, all its data is saved to a single, compressed protected file to make it easily restored. It has a special ability to back up Internet Explorer Favorites and Firefox Bookmarks
An internal schedule is present that permits you to back up your email client daily, weekly and as you choose. Another profound advantage it has is that, one back up file can be restored on a different computer or Windows operating system.
Some recent changes in the latest version makes it work on Windows vista, Outlook 2007 and Firefox3.
Want to check it out? Visit http://www.adolix.com/email-backup
This entry was posted on Thursday, September 11th, 2008 at 6:51 am and is filed under Main. You can follow any responses to this entry through the RSS 2.0 feed. You can skip to the end and leave a response. Pinging is currently not allowed.