Ciaran Moore - November 12, 2008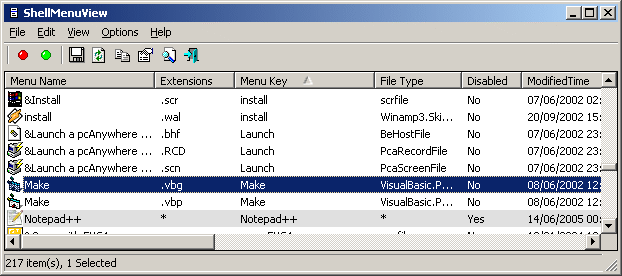 ShellMenuView is a little program for showing a list of your context menu items ( the menu that pops up whenever you right-click a file or folder in Windows Explorer), and gives you a very easy method of disabling any unnecessary menu items listed. This can enable you to have a cleaner, tidier menu system in your right click menus by getting rid of the options you never use.
This program will work fine on Windows 2000 and Windows XP. If you happen to be still running Windows 98 for some reason, you can still use this program for viewing the menu items list, but the disabling/enabling can't work on this version of Windows. (The disabling feature is only made possible by adding 'LegacyDisable' key to the particular menu item in the Registry, and this Registry key isn't supported by Windows 98)
It requires no installation and is freeware.
So if you're a neatfreak! Check it out here!
This entry was posted on Wednesday, November 12th, 2008 at 7:20 am and is filed under Freeware, Shell and Desktop. You can follow any responses to this entry through the RSS 2.0 feed. You can skip to the end and leave a response. Pinging is currently not allowed.