O. James Samson - November 25, 2008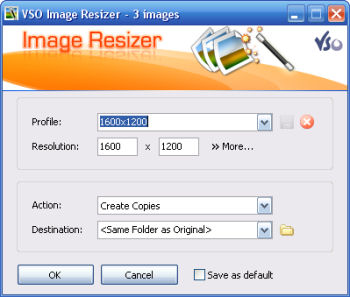 If you are a digital picture nut, you will want to take a very close look at what VSO Image Resizer can do for you.  It may be a free piece of software, but this free piece of software is one very powerful package.  The latest version, released on November 22nd, is the most powerful package yet in the series and the things that it can do for you across multiple Windows platforms are quite remarkable indeed.
One side of the coin that this software package brings to the table is the basic graphic operations that ever imaging program can do.  These include the resizing of images to a proper resolution as well as the configuration of different compression ratios for different purposes.  The more advanced options that most image programs have such as the ability to switch back and forth between different image formats are also available on this piece of software.
However, when you add to that the fact that this program can integrate directly with windows, can convert batch numbers and can be run in a mode that allows for fast processing, you begin to see just how powerful this program is.  More information can only be found through direct exploration and is available from http://www.vso-software.fr/products/image_resizer/.
This entry was posted on Tuesday, November 25th, 2008 at 7:09 am and is filed under Main. You can follow any responses to this entry through the RSS 2.0 feed. You can skip to the end and leave a response. Pinging is currently not allowed.