Tilgore Kraut - January 30, 2009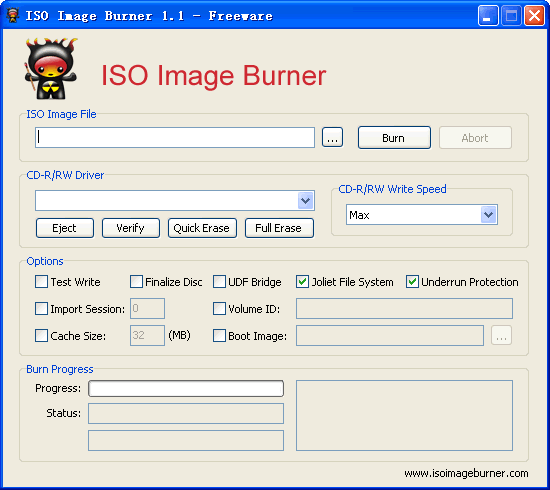 ISO Image Burner is a freeware that will allow you to burn an ISO image file to CD/DVD disc. It is completely free and fully functional from www.isoimageburner.com, help you burn your ISO image easy and quickly.
Features: ISO Image Burner is a free utility. It helps you burn an ISO image file onto a CD or a DVD. You could do it quite easily and quickly. There are several burning options. The application supports quick erase of CD-RW/DVD-RW/DVD+RW media. Dual layer DVD, CD-R, CD-RW, DVD-R, DVD+R, DVD-RW, DVD+RW support are available. Data to be burnt can be in either ISO9660 or Joliet File System formats.
There's a test write option available that lets you make sure everything is set up correctly before actually writing on to a actual disc. Finalize disc feature closes a burning session correctly. Multi-session recording is supported. Multi-session discs can be burned in multiple sessions until you have reached the maximum disc capacity. A session is a self-contained data area that is burned using a single process, and consists of a lead-in (with the table of contents), and one or more tracks and a lead-out. Discs without the multi-session option, e.g. Audio CDs, are burned in a single session.
Buffer under-run protection ensures that data flow is never interrupted to the disc when a burning session is in progress. This leaves the new CD spinning in the drive while no data is available to be written to it, resulting in the writer essentially 'losing its place' on the disk and creating a useless CD. Joliet file system is an extension of the ISO 9660 that supports the Windows long file names.
Overall: Simple to use interface and more or less automatic operation makes this application quite useful.
This entry was posted on Friday, January 30th, 2009 at 9:53 am and is filed under Main. You can follow any responses to this entry through the RSS 2.0 feed. You can skip to the end and leave a response. Pinging is currently not allowed.