Tilgore Kraut - March 31, 2009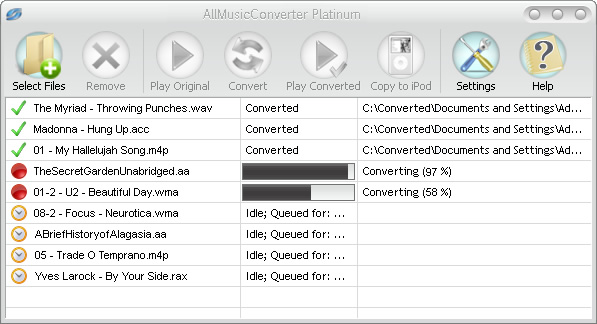 After getting hold over the blockbuster smart-phone last week, you must have chosen a list of your favorite tracks to fill the device with. However, the real trouble arises when the file format of your selected tracks is incompatible with that of the device. This isn't the problem with the iPhone only, and one can face the problem of incompatible file formats with other devices too. So, if you're also experiencing any such and seeking an apt solution then try converting your audio files into the most common audio formats compatible to almost every media device. Well, you needn't pour your hard efforts in searching an apt audio conversion tool as you can try out AllMusicConverter 3.7.7 that serves the purposes efficiently. The utility aids you in converting both unprotected and protected music files and other type of media files into much known MP3, WAV or AAC audio format rapidly.
While converting the different format audio files, you can easily configure the AllMusicConverter 3.7.7 to perform the required conversion task as per your specified output settings. You simply require making desired file selection, choose the output format, and finally convert and store them specified destination. Press 'Select Files' button to choose the audio files that after selection get enlisted on the console. To ensure that the files have been correctly chosen, you can listen to the audio file using the Play feature. Next, for the conversion process, next is the selection of output format, followed by the customization of the configurations as per your requirements. Press 'Convert' following which the utility would begin converting the audio files, and its progress is displayed on the screen. Moreover, the converted files can be copied to your iPod directly from the utility itself.
AllMusicConverter 3.7.7 makes your favorite music tracks compatible with various devices including your iPod, MP3 player, mobile phone, CD player, or PC.
This entry was posted on Tuesday, March 31st, 2009 at 5:06 am and is filed under Main. You can follow any responses to this entry through the RSS 2.0 feed. You can skip to the end and leave a response. Pinging is currently not allowed.