Ciaran Moore - April 27, 2009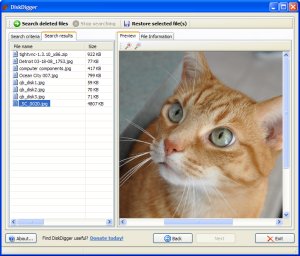 DiskDigger is a file recovery program that goes "beneath the file system" to recover data on a sector-by-sector basis from hard drives, thumb drives, etc. This program is very simple to use. Choose a drive, decide the types of files to be recovered (jpeg, mp3, documents, etc.) and select next.
One thing is that if the filetype you're attempting to recover isn't in the DiskDigger's list, it can't find it. It would be nice to have a wildcard option or the ability to specify more filetypes. Even so, the most popular filetypes are there and that should be sufficient for most users.
It can scan FAT12 (floppy disks), FAT16 (older memory cards), FAT32 (newer memory cards and hard disks), NTFS (newer hard disks), and exFAT (Microsoft's new successor to FAT32). It's also portable as the whole program runs from a self contained *.exe file.
So here's the deal: DiskDigger is a freeware, simple-to-use data recovery program that works almost as good as similar pay software.
For further info or to download it and try to get those missing files back, head over to the website here.
This entry was posted on Monday, April 27th, 2009 at 3:41 am and is filed under Files and Folders, Freeware, Utilities. You can follow any responses to this entry through the RSS 2.0 feed. You can skip to the end and leave a response. Pinging is currently not allowed.