O. James Samson - November 24, 2009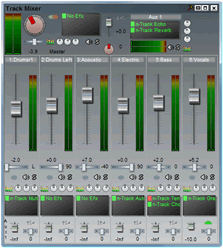 This software turns your computer system into a complete record studio. Just imagine that you have to record and playback almost unlimited number of audios and midi tracks of course this depends on your computer and the speed it has. You can adjust the effect settings and listen to the outcome in real time.
n-Track Studio 6.0.7.2527 Beta has native effect and supports a third party DirectX and VST 2.0 plug-ins. It works with almost any standard or multichannel 16 and 24 bit soundcards at sampling frequencies of up to 192 KHZ. The built in effects includes: compression, reverb, Auto volume, chorus, multiband compression and others.
The other basic features of n-Track Studio 6.0.7.2527 Beta are: it enables you to import and export wav, mp3, mid, ogg cda and sgw audio files, import and export EDL multitrack song files for exchange of songs with other multitrack programs, mix down of all tracks into a single wav file after recording has been made. It can also be used to record an audio CD track using a CD recorder or to distribute the songs via the internet making use of the inn built mp3 encoder.
n-track Studio 6.0.7.2527 Beta is a shareware and cost $45 which is moderate and not too expensive for the value it gives you.
You can check it out at ntrack.com
This entry was posted on Tuesday, November 24th, 2009 at 2:39 pm and is filed under Main. You can follow any responses to this entry through the RSS 2.0 feed. You can skip to the end and leave a response. Pinging is currently not allowed.