O. James Samson - November 30, 2009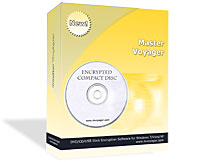 With this software, you can create protected VCD/DVD Discs and USB Memory Sticks. It does this by creating a protected area or areas on the media and you just enter a password to view all protected contents. All protected Discs/USB stick is fully autonomous and does not require any specially installed software on your system.
Master Voyager 2.29 is 256 bits standard encryption software used for protecting records and files on your computer system. Your files and records are sensitive things you need to keep very well from the prying eyes of strangers and what ever it cost you or what ever length you go to make sure that they are safe and intact will not be too much.
Another great advantage of this software is that it does not require you to buy any special CD burning software, this one will do all that you have to do in that area.
Want to check it out? Visit Mvoyager.com
This entry was posted on Monday, November 30th, 2009 at 2:33 pm and is filed under Main. You can follow any responses to this entry through the RSS 2.0 feed. You can skip to the end and leave a response. Pinging is currently not allowed.