Tilgore Kraut - December 23, 2009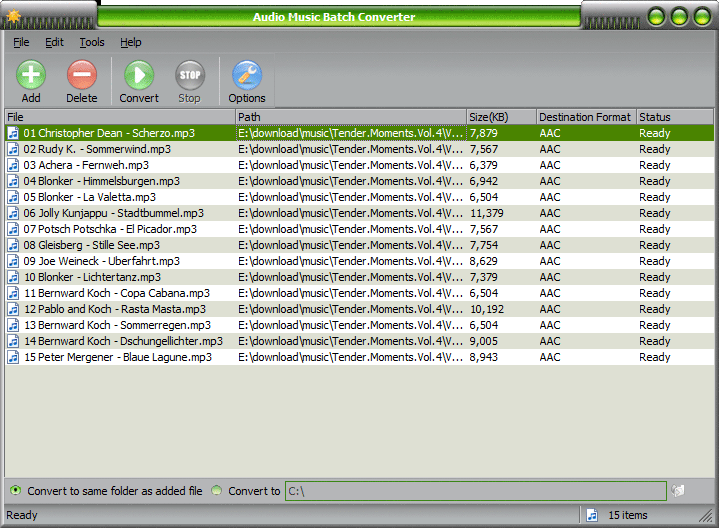 The Audio Music Batch Converter is a standalone, batch conversion utility to convert your audio files from one format to other. This utility supports almost all file formats, you name the format and it is available in the list for conversion. You can also extract audio files from WMV, ASF or ASX video files. This program has multiple language support.
Features: This program allows you to add files to the list for conversion by three different ways. Click on add button to add one or more file(s) for conversion, select folder option to add the files present in the folder or drag audio files from windows explorer to the Audio Music Batch Converter. Application has a long list of supported format such as AAC , ADPCM, AIFF, APE, AU, A-LAW, CAF, DSP, FLAC, G721, G723, G726, GSM, IRCAM, MP2, MP3, MP4, NIST, OGG, PAF, PVF, RAW, SHN, SVX, U-LAW, VOC, VOX, W64, WAV, WMA. For each option, it allows you to set your preference as per format type like frequency, bit rate, quality, channels, encode mode and many more. Application has a feature to set same destination format for all files or set destination format for selected files. You can save the converted file in the save folder or define the folder where you want to store the converted file. Once settings are defined, click on convert button to start conversion. You can convert all or selected items from the list. After conversion status is updated under status column as done.
It is supported on Windows 2000, Windows XP, Windows 2003, Windows Vista, Windows 2008 and Windows 7 platform.
Overall: This is a simple and easy to use tool for conversion of one format audio file to other formats.
This entry was posted on Wednesday, December 23rd, 2009 at 4:41 pm and is filed under Main. You can follow any responses to this entry through the RSS 2.0 feed. You can skip to the end and leave a response. Pinging is currently not allowed.