Ciaran Moore - May 13, 2010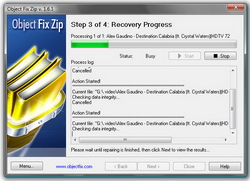 Compressing and archiving files is common nowadays because it allows users to shrink large files and store them as a single file for future use. There is a lot of software available for compressing and archiving files some of them are commercial while other are for free. There are also a variety of compressed file formats but the more popular among them is the zip file. Though zip files allows you to store files for longer times, but unlike plain files, once zip files are damaged, accessing it can be very difficult, or worse impossible to retrieve.
Object Fix Zip is a utility program developed to cater to the need of reconstructing damaged zip files. Damage here include all the possible errors that might be encountered when dealing with zip files; corrupt zip files, broken zip files, or files that are downloaded partially. Object Fix Zip recovers such files by creating a new zip file when the program is attempting to retrieve the content of your damaged zip file. If your zip file happens to have a password, all you have to do is supply the password while the program attempts to recover the damaged file. However, it is important to take note that not all damaged zip files can be recovered so if it happens that your damaged zip file fails to be recovered after using Object Fix Zip, then most likely your file is now impossible to recover and a its a lesser possibility that the program performance is at fault.
Now going back, Object Fix Zip's user interface looks like an installation wizard, with explanations regarding the function of the window are embedded within the window itself. You just need to press the next button to transfer to the next window and so on. Object Fix Zip works on multiple zip files all at once to save time when testing multiple files. Aside from testing damaged zip files and recover content of damaged zip files, the program can also perform task of extracting the content of any zip file. You've got an all-in-one package here.
This could be the software to try if you need to recover damaged zip files that contained important data. It runs only on Windows 32 bit platform (from Windows 95 and later) and available as freeware from Essentialdatatools.com
This entry was posted on Thursday, May 13th, 2010 at 2:01 am and is filed under Archive, Files and Folders, Freeware. You can follow any responses to this entry through the RSS 2.0 feed. You can skip to the end and leave a response. Pinging is currently not allowed.