O. James Samson - June 23, 2010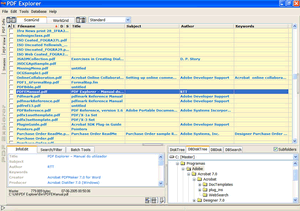 PDF Explorer 1.5 is a CHM and PDF files management software and image extraction tool. What it does is to provide users with the opportunity of easily gather and add all their CHM and PDF documents to a database file, which displays an overview of Filename, Subject, Creation Date, Producer, Title, and Author, Number of Pages, Modification Date and a maximum of 100 custom fields to enter custom data.
With the introduction of this tool, users can search through all the files, have a chance to view them, batch rename them and do much more. PDF Explorer 1.5 can also be used to scan within ZIP files and so much more.
What differentiate PDF Explorer 1.5 from the past versions are: a context-sensitive help system; the database editor shows now an improved database tree; Rename Files, Copy Files, Move Files and Delete Files functions added to the web interface API; import wizard can now open, more easily, very big .CSV files; PDF Creator tool can set some of the standard metadata fields, supports drag and drop of image files from applications other than the Shell.
The sad part of this tool is that it actually does not extract the images with the proper color settings.
Want to check it out? Visit Rttsoftware
This entry was posted on Wednesday, June 23rd, 2010 at 11:40 am and is filed under Main. You can follow any responses to this entry through the RSS 2.0 feed. You can skip to the end and leave a response. Pinging is currently not allowed.