O. James Samson - August 26, 2010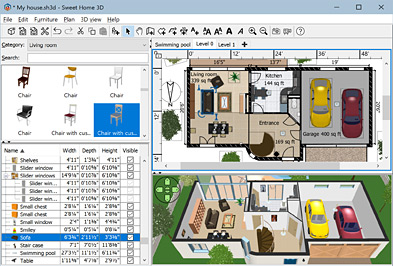 Sweet Home 3D is a freeware application that can be used to design or place your furniture on a house 2D plan, and with a 3D preview. It is an amazing application that is surprisingly free, and without limitations. I am always impressed each time I come across programs like this one that can be used to bring some life into your furniture. All it takes is a download and of course an easy installation.
The program comes in many different languages apart from English. Some of the other languages include; French, Portuguese, Italian, German, Spanish, Swedish, Bulgarian, Russian, Polish, Japanese, and many others. The software is an open source program that comes with a GNU General Public License.
However, users can only make use of this program when they are online; in order words, you must be connected to the internet to benefit from its features. Sweet Home 3D 2.6 is about the best program in its category that is free for download. With the 3D aspect of this program being one of its strongest points yet; there is no doubt how much use it can be put to by users. The 3D preview is just amazingly delightful to behold!
Want to check it out? Visit Sweethome3D
This entry was posted on Thursday, August 26th, 2010 at 1:37 pm and is filed under Main. You can follow any responses to this entry through the RSS 2.0 feed. You can skip to the end and leave a response. Pinging is currently not allowed.