O. James Samson - September 21, 2010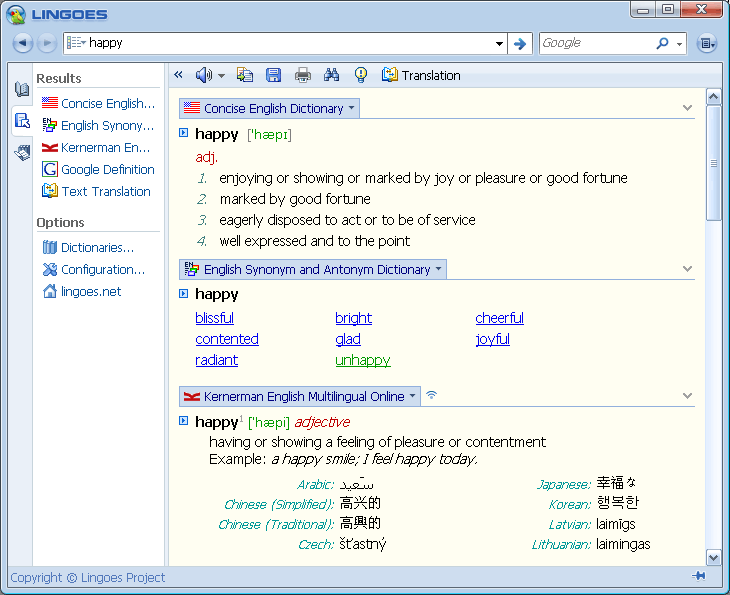 Lingoes 2.7.1 is a very easy to use application with an intuitive dictionary and text translation software. It offers lookup dictionaries, full text translation, and captures word on screen; and translates selected text and pronunciation of words in over 80 different languages. A few of some of the languages it feature include: Greek; English; Swedish; French; German; Korean; Spanish; Portuguese; Russian; Hebrew; Turkish; Chinese; Japanese; Polish; Arabic; and many more.
Some latest changes in this freeware program include; provision of plugin for Adobe Acrobat pro, support for cursor translator more fluently in Firefox 3, innovative word translator that can translate as many as 23 languages of text into your native or other languages, and a natural voice that can perfectly pronounce word just like a native English speaker.
Lingoes 2.7.1 has so many wonderful features and languages that can compete on a level ground with some commercial programs. As a matter of fact, it can open so many cross language design; including opening dictionaries management. The publishers also have online translation services that enable users enjoy massive text translation. Amazingly, there are various thesauruses and dictionaries also available for download at no cost at the publisher's site. Some of these features and benefits can only be found in some full commercial programs; not on freeware program like Lingoes.
Want to check it out? Visit Lingoes.net
This entry was posted on Tuesday, September 21st, 2010 at 7:46 am and is filed under Main. You can follow any responses to this entry through the RSS 2.0 feed. You can skip to the end and leave a response. Pinging is currently not allowed.