O. James Samson - September 23, 2010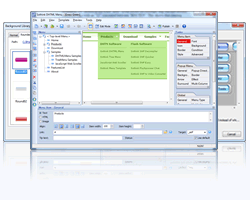 Sothink DHTML Menu Pro 9.5 Build 938 is a well built and very useful navigation menu builder. It creates cross-browser drop down menus in only a matter of seconds; and is compatible with browsers like; Google Chrome, Internet Explorer 8, and many other popular web browsers. Sothink DHTML Menu Pro 9.5 Build 938 integrates nicely with other popular web authoring tools. Now, search engine friendly DHTML menu is even easier than it used to be.
$65.00 is not actually a price too high for anyone who understands the challenges of a search engine friendly menu. Although, the program is highly technical; probably because of its great features, users with some basic skills can handle it quite alright without too much difficulty. The program is extremely light, and at 6.25 MB, Sothink DHTML Menu Pro 9.5 Build can be downloaded and installed easily on your computer.
It is simply an easy productive drop-down menu builder that almost anyone can use to create SE friendly DHTML menu, JavaScript menu for web navigation, all without writing a single line of code. Sothink DHTML Menu Pro JavaScript Menu appearance can be fully and easily customized without any difficulty. Also, a user can enjoy a free integration that enables him add the menus to webpage using existing HTML editors.
Want to check it out? Visit Sothink.com
This entry was posted on Thursday, September 23rd, 2010 at 9:20 am and is filed under Main. You can follow any responses to this entry through the RSS 2.0 feed. You can skip to the end and leave a response. Pinging is currently not allowed.