O. James Samson - November 19, 2010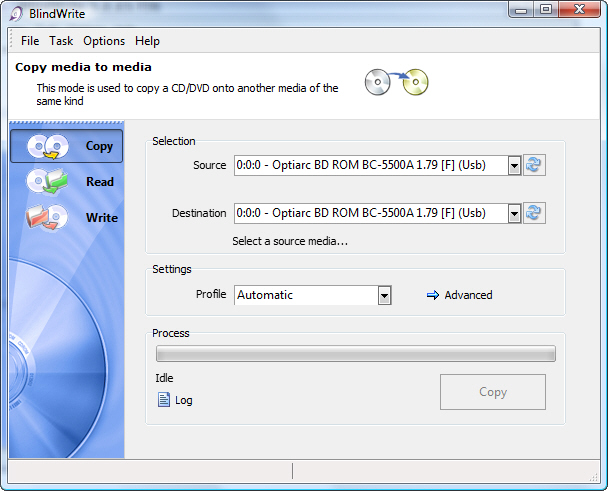 The primary function of this program is to extract all the characteristics of your disc to your hard drive in order to reproduce a working copy. That means you can protect all your hard work against damages usually caused by problems associated with frequent usage, and children. The publishers also kept in mind the importance of backing up on some protected media. However, users may not find BlindWrite useful when it comes to copying some DVD movies; especially the ones that are very large in sizes or above 5 GB. Users who want to copy something bigger than the size this one can carry should go for other programs that have much bigger capacity. However, BlindWrite works effectively for Blu-Ray disc to BD25 and BD50 copy. Like I already said earlier, BlindWrite is a sure way of protecting your investment from being completely lost or damaged.
Some of its features include: backup files and other programs; a variety of profiles to help you customize any disc you are backing up, supports different formats such as CloneCD, ISO images, Alcohol; and many more.
BlindWrite is not a freeware program, but you can download a free copy for trial before going for the unlimited version, which costs $29.99. Although there are other programs that can be used for free, I don't think this price is too high because of all the things you are able to do with this program; a fair price I must say.
Want to check it out? Visit Vso-Software.
This entry was posted on Friday, November 19th, 2010 at 7:44 am and is filed under Main. You can follow any responses to this entry through the RSS 2.0 feed. You can skip to the end and leave a response. Pinging is currently not allowed.