O. James Samson - November 25, 2010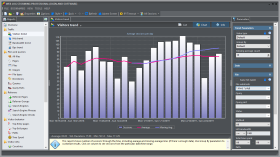 Web Log Storming is an interactive desktop-based application, and is a web log analyzer for Windows. As a matter of fact, Web Log Storming is a new concept of website statistics. Users can use it to browse through stats to drill down into details; including visitor's session, check the pattern of individual visitor behavior and how it fits into the goals of the user. Once installed on your computer system, Web Log Storming is able to display detailed web statistics with interactive graphs and reports.
The publishers have made a few changes in this version, which include; tabbed reports, six new report types, new parameters and global filters, better speed and stability, and other usability/user interface improvements.
Some of the additional things you can use Web Log Storming to for include: unlimited interactive reports and graphs; find out if visitors behave as expected; find out if your web log files compressed to save disk space; easily improve your return on investment (ROI) and helps you to save a lot of money; track individual visits with precision; connect to HTTP or FTP server, and download updated log files automatically; export reports to HTML files, send them by electronic mail or copy them straight to the clipboard; and many more.
Users can download their 30 days trial version in order to have a feel of other features before actual purchase is made.
Want to check it out? Visit Weblogstorming.
This entry was posted on Thursday, November 25th, 2010 at 9:58 pm and is filed under Main. You can follow any responses to this entry through the RSS 2.0 feed. You can skip to the end and leave a response. Pinging is currently not allowed.