O. James Samson - December 28, 2010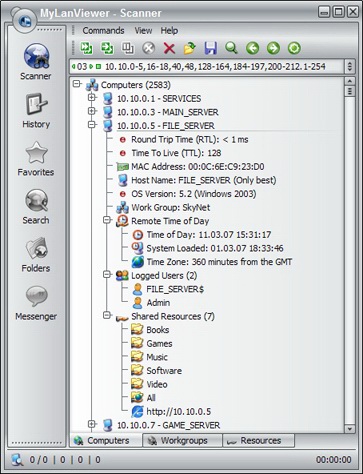 MyLanViewer is an application designed for scanning network computers, navigating their shared resources and for monitoring local shared resources on your computer. The program is very light, and easy to install with a user-interface that is so easy to understand.
The application also works as an IP and NetBIOS Scanner, whois and traceroute tool, remote shutdown and wake-on-LAN manager, LAN messenger and network monitor. MyLanViewer scanner displays your network computers in an easy to read, buddy-list style window that provides the machine names, IP addresses, MAC addresses, shared resources and other technical details for each computer.
MyLanViewer supports the following features: remote wake up; lock; log off; sleep; hibernate; reboot; shutdown; power off; terminate user sessions and disable shared resources; view and access shared folders; and is fast when it comes to network scanning.
The download price is put at $15.00; not a high amount to pay, but are you really sure one can't get some other programs even better than this for free? Not really top-notch compared to other commercial and freeware programs around. However, users still have the opportunity to try it out for a limited period of 30 days. MyLlanViewer 4.4.3 did not come with an uninstaller.
Want to check it out? Visit MyLANviewer.com.
This entry was posted on Tuesday, December 28th, 2010 at 10:17 pm and is filed under Main. You can follow any responses to this entry through the RSS 2.0 feed. You can skip to the end and leave a response. Pinging is currently not allowed.