O. James Samson - April 28, 2011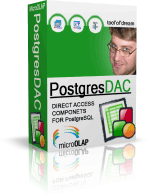 PostgresDAC is a PostgreSQL BDE replacement application for Delphi 4-6 and BCB 5. The application allows you create Delphi/BCB5 applications with direct access to PostgreSQL DB without BDE and ODBC. This components set was developed for easy migration of existing projects from BDE/ODBC scheme to the native one. The User-Interface of postgresDAC is BDE-like and TDataSet compatible. TDBImageEx component for JPEG images in BLOBs support included in package for free (with sources). You need the following to use PostgresDAC on your system; Delphi 5-2009 or C++Builder 5-2009; PostgreSQL 7.4 and higher. Some of its latest changes include the following; ability to set error messages verbosity added, PostgreSQL v8.4.2 client libraries added (including pg_dump & pg_restore).
PostgresDAC is fully compatible with all existing data-aware controls and reports designers, full support of the BLOB fields, currently, the program is the only one that supports fully supports PostgreSQL native dump file format, and a couple of others.
PostgresDAC is a shareware application, and is compatible with the following operating systems; Windows 2000, Windows 2003, and Windows XP. The unlimited version can be downloaded for $59.95. The trial period should be long enough for all users to get familiar with all the new additions or features.
Want to check it out? Visit Microolap.
This entry was posted on Thursday, April 28th, 2011 at 2:54 am and is filed under Main. You can follow any responses to this entry through the RSS 2.0 feed. You can skip to the end and leave a response. Pinging is currently not allowed.