O. James Samson - July 27, 2011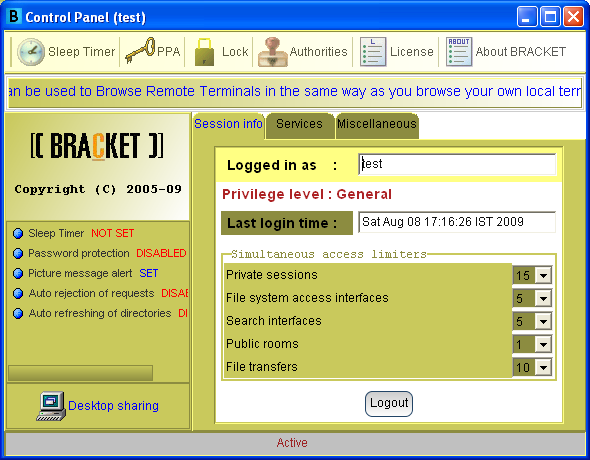 Bracket is a program that supports full Desktop Sharing with recordable sessions. The software works across all platforms as it is platform independent, and also supports Web hosting on local system, which is an "Innovation Concept." The website can be hosted on local system but will be accessible on internet. Other features available in Bracket include the following; IM, Hotlink based access to network files, File transfers, File System Access, Platform Independence, No installation required, shipped as ready to run binaries. The product is a complete collaboration suite.
Bracket is designed to erase the line between the Local System and the Remote System. The software allows you to perform all such operations over the network (remotely) that you could have performed if you were sitting in front of the remote system. Desktop sharing, file system access, file transfers and messaging are only a few to mention here.  The latest updates allow you to host your website right on your local system, and still make it live on the internet. Bracket is an amazing program that is just right for both small and medium businesses and organizations.
This nice network application includes a couple of key features that may not take much time to get familiar with. Key features include the following; web hosting on local system, platform independent, full support for file transfer, P2P file sharing, etc.
Want to check it out? Visit Bracket.
This entry was posted on Wednesday, July 27th, 2011 at 1:06 am and is filed under Main. You can follow any responses to this entry through the RSS 2.0 feed. You can skip to the end and leave a response. Pinging is currently not allowed.