Ciaran Moore - September 6, 2011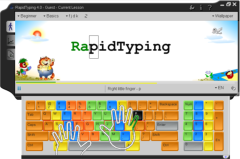 Each and every one of us has been through it. We take a typing test for an employer thinking that we are going to be just fine. We spend so much time on the internet chatting, social networking and all the rest that we should be a pro by now right? Until we fall below the employers guidelines for accuracy.
It's unfortunately a common problem in the world right now, and something that a lot of people are seeking to fix. With Rapid Typing Tutor not only can you take advantage of the lessons that it already has built in, but if you happen to know an area that is particularly trying for you, like accuracy, you can take a lesson based on just that!
With its easy to use graphical interface and its tips and various tools you will be back on track quickly and easily. The program automatically saves your progress and accomplishments making it easy to look back and see how far you've come when you get disappointed and start thinking that you've not come very far at all. Rapid Typing Tutor will not only enhance your speed but also your style. Let's face it most of us are "two finger typists" and unfortunately that does not add to speed at all.
With this program you will learn not only about how to be faster and more accurate, but also how to type correctly with a full two handed style. Many employers are looking for people who can not only type well but also who can type correctly, since it adds to a persons efficiency and with today's economy that is not only just an added bonus for an employer, its a necessity.
So if you are looking to add to your skills and improve your typing, check out Rapid Typing Tutor at Rapidtyping
This entry was posted on Tuesday, September 6th, 2011 at 10:47 am and is filed under Main. You can follow any responses to this entry through the RSS 2.0 feed. You can skip to the end and leave a response. Pinging is currently not allowed.