O. James Samson - May 25, 2012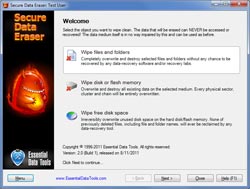 Secure Data Eraser protects your computer privacy, wipe files, disk drives/flash memory and unused disk space so your data can never be accessed or recovered. The program uses either fast or secure erase algorithms. Files and folders can be combined in wipe lists to erase them in a single procedure. Both the FAT and NTFS file systems are supported. You have to be extremely cautious when trying to wipe away some data; which means you need to have an understanding of how the program works before using it. The program is easy to use, but it is advisable to understand some of its features before using it.
Some of the features of wipe files and folders clean, files and folders may be combined in wipe lists to be erased in a single procedure, wipe disk drives and flash memory if it is accessible as a drive letter in your system, Optional automatic re-formatting of drives after wipe, wipe unused disk space, Choose security level from Standard to Military-strength, Supports FAT and NTFS file systems, Supports all modern Windows versions, including Windows NT/2000/XP/2003, easy to use, intuitive wizard-driven interface, and a host of others.
Want to check it out? Visit EssentialDataTools.
This entry was posted on Friday, May 25th, 2012 at 3:14 pm and is filed under Main. You can follow any responses to this entry through the RSS 2.0 feed. You can skip to the end and leave a response. Pinging is currently not allowed.