Thursday, May 24th, 2012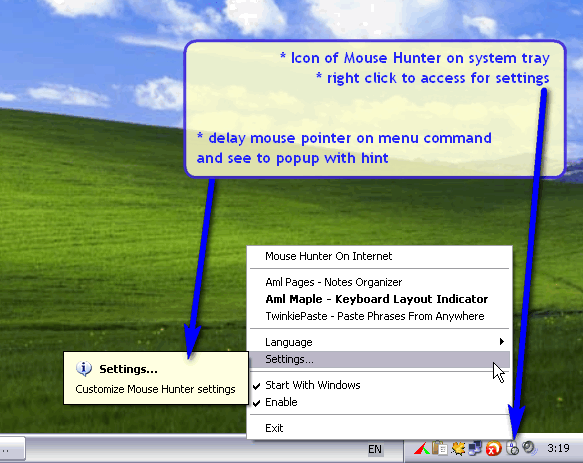 Mouse Hunter is a free utility that optimizes the work with the mouse wheel under MS Windows. When you rotate the mouse wheel scroll the UI element that is located under the mouse cursor. However, not the element that has the input focus (which responds to input from the keyboard) – as it usually does in Windows. Key and new fixes in this version include localization of features for tray tooltips, and addition of auto-detection of autorun setting in background mode on fly (for config-module). However, you may have to cope with annoying (call it that if you like) scroll bars and drop/combo boxes because the rows are scrolled when selected; surely the main window won't scroll except other rows are not selected.
Mouse Hunter also has some beautiful features that include the following; works with almost all applications, sits in your system tray as an icon, left-click on the icon to enable or disable the Mouse Hunter, double left-click on the icon to open settings, right-click on the icon to get the context menu, and settings that enable horizontal scrolling when you press certain buttons. Mouse Hunter is a freeware program that runs basically on all Windows programs.
Want to check it out? Visit Amlpages.