O. James Samson - June 26, 2012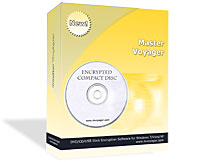 Master Voyager is a utility that is specially designed to create password protected DVD/CD discs and USB Memory Sticks. It does this by creating protected areas on the DVD/CD and it requires you to enter password to view the protected contents. The protected media is fully autonomous and does not require you to install any extra software on your computer.
The contents of your media are protected by a strong encryption. It uses the Advanced Encryption Standard (AES) 256 bit which is the new Federal Information Processing Standard (FIPS) by U.S.Government organizations (and others) to protect your records. You do not need special CD/DVD burning software. Embedded in this program is a CD/DVD burning module. It supports the following disc types: CDR/CDRW/DVD+-R/DVD+-RW.
You can read protected media without having Master Voyager installed on your computer. This is because each protected disc/USB stick contains Autoplay module. Simply insert disc into the CD drive and input the password when it prompts you to. Your computer must have Windows and CDROM/USB port. The protected media does NOT install any software to the target computer. It is fully autonomous.
This program functions by creating password to protect CD/DVD, encrypted backups on CD/DVD can then be safely in public and insecure locations. When there is a theft or loss of the media, the encrypted media and the data it contains will remain safe and confidential.  You do not need to decrypt files on the DVD/Pendrive before use. Just enter the password and work with any document on the DVD/USB Flash Drive as usual.
Some of the main features of the program include: there is no need to decrypt data from the media, guarantees secure data confidentiality, contains embedded CD/DVD burning module and allows you to work with encrypted media.
To find out more about this program, please visit Mvoyager.
This entry was posted on Tuesday, June 26th, 2012 at 12:23 pm and is filed under Main. You can follow any responses to this entry through the RSS 2.0 feed. You can skip to the end and leave a response. Pinging is currently not allowed.