O. James Samson - June 28, 2012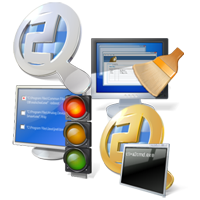 Emsisoft Emergency Kit contains a very robust tool that allows you to scan for Viruses, Trojans, Spyware, Adware, Worms, Dialers, Keyloggers and other malign programs and erase infected computers for malware. It does not require you to install software. It comes fitted with various components makes it very easy for it to accomplish this.
It has a very powerful Scanner that allows it to search your computer for Viruses, Trojans, Spyware, Adware, Worms, Dialers, Keyloggers and other malware. Any threats found can either be moved to quarantine or completely deleted.
Commandline Scanner is designed for professional users and works very well for batch jobs. The HiJackFree is used by advanced users to find and remove malware manually. You can also use it to manage all active processes, services, drivers, autoruns, open ports, hosts file entries e.t.c.
The BlitzBlank is a useful tool for expert users who tasks require them to manually remove malware frequently. Trying to clean up malware from infected systems is no mean task. These malware are increasingly becoming difficult to detect and delete. But with this BlitzBlank, you could readily achieve that.
You can very easily expand the contents of this program into an USB Flash Drive  and take it along with you as a universal tool to scan, detect and delete malware from any infected  system wherever you may go.
To find out more about this software, please kindly visit EmsiSoft.
This entry was posted on Thursday, June 28th, 2012 at 1:00 pm and is filed under Main. You can follow any responses to this entry through the RSS 2.0 feed. You can skip to the end and leave a response. Pinging is currently not allowed.