O. James Samson - August 9, 2012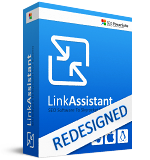 LinkAssistant is a link building SEO utility used by thousands of webmasters all over the world cross the globe to quickly find useful links and efficiently manage link building campaigns. It streamlines industry standards for link building and allows you to go beyond clients' value needs,
What makes LinkAssistant unique for link building and client reporting? The following are some of the outstanding qualities of this program: it offers very fast and secure operation at every step of your link management.  It has a simple reporting and control over each stage of your website promotion campaign. Even for massive volumes of work, it still has a fail-safe performance. It is extremely easy to use even for beginners. It comes with its own complete toolkit and has no need for other software. You can carry out frequent functionality updates on it quite easily too.
Key features of this program are: it is a guaranteed way to drive your website right through to your desired top position on Google ranking. Its SEO tool is loaded with a wealth of features to entirely transform your link building experience, making it many times faster and very easy.
So if you are searching for a SEO tool to launch your website to your cherished Google top, then LinkAssistant is it. To learn more about this program, go to
This entry was posted on Thursday, August 9th, 2012 at 11:10 am and is filed under Main. You can follow any responses to this entry through the RSS 2.0 feed. You can skip to the end and leave a response. Pinging is currently not allowed.