O. James Samson - August 28, 2012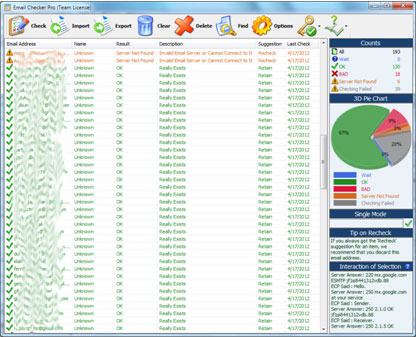 If you are looking for an application that can check between 500 and 1,000 email addresses very fast, while also providing real-time statistics during checking; then you should pay closer attention to Email Checker.
Email Checker Pro has built-in features that can check and verify if email addresses are valid (format or syntax) and really existing on the corresponding email servers without sending in BATCH mode. Email Checker works very fast, the more the faster due to use multi-threaded checking. The program can check 500-1000 email addresses per minute; although this depends on the speed and performance of your computer as well as network speed.
Email Checker Pro 4.0 has been upgraded to include a couple of updates and bug fixes by the publishers. These bug fixes and updates include; recheck old email addresses only if the old [Suggestion] is "Recheck", the Del key cannot work in the Single Mode input box, etc.
Email Checker Pro also allows you to check validity and existence both without sending, work in batch mode, import/export email addresses (csv, txt, xls(x) with Multi-sheet), fast checking (500-1000/min), the more the Faster due to multi-threaded, advanced excel import/export algorithm that makes efficient behavior, etc.
Downsides?
Some users have complained about its speed in certain cases. This however, could be as a result of the performance of their computers or network speed.
Want to check it out? Visit AutoMailSender.
This entry was posted on Tuesday, August 28th, 2012 at 12:40 am and is filed under Main. You can follow any responses to this entry through the RSS 2.0 feed. You can skip to the end and leave a response. Pinging is currently not allowed.