Wednesday, September 26th, 2012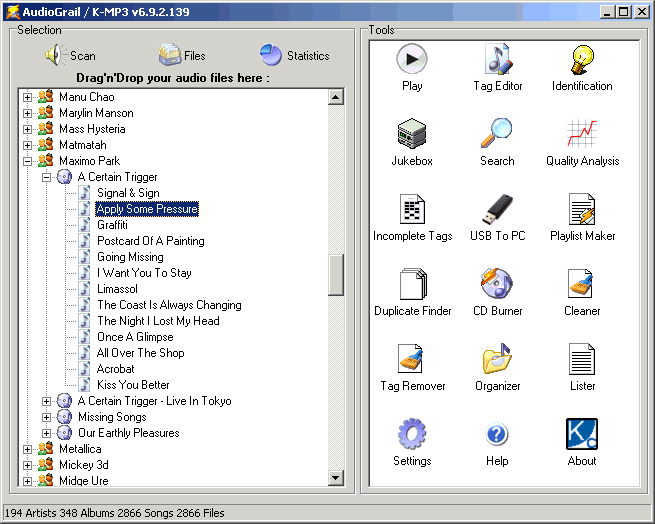 Now here is a program that you might want to have on your system basically for a lot of possible reasons. It is not one of many MP3 file renammer programs that are limited to a couple of unimportant features as it tries to roll them all in a single package. AudioGrail gives you a lot of features to help you do a lot of things with your MP3 including renaming your files.
AudioGrail (Formerly K-MP3) is the Swiss army knife for everything that is related to audio files (MP3, MPC, OGG…). It can very easily rename and tag (tag: info such as artist name, album, track title) your files automatically. The program can also analyze quality, organize files on your system, find duplicated files as well as improve your everyday audio experience.
AudioGrail is an automatic MP3 files renammer and tagger that can automatically fetch tracks name from the internet thank to the power of the FreeDB online database. A couple of other features of the program are as follows; supports MP3, OGG, MPC, APE, AAC, FLAC, and WavPack, audio files to audio CD burning capabilities, tags normalizer, quality analyzer, playlist creator and analyzer, incomplete tag finder, etc.
Downside
Not enough features for the free version; and the fact that some other freeware programs offer better features is a little minus for this program. However, this doesn't affect the other positive side to AudioGrail.
Want to check it out? Visit KCSoftwares.