Monday, October 29th, 2012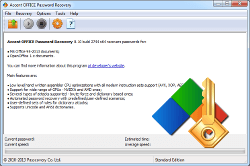 Having one good application that can help recover passwords of several supported types is a brilliant idea. The benefits of this kind of application or program cannot be overlooked because of the value attached to passwords. Accent OFFICE Password Recovery promises you a lot of features that can be easily used within a few days of installation.
What is Accent OFFICE Password Recovery?
Accent OFFICE Password Recovery instantly recovers passwords of many supported types. The program enables you to do the following; Password to edit in Word and Excel, passwords to Excel spreadsheets, passwords to edit MS Access databases, and Office VBA passwords (Access VBA, Excel VBA or Word VBA). All these passwords are found at the moment of opening of a password-protected document with the help of the program.
What can Accent OFFICE Password Recovery do for you once you have installed it on your system? With this program, you can enjoy the following features; supports all file formats created in Microsoft Office and OpenOffice and successfully recovers passwords to files created in any year, fully supports Microsoft Office and OpenOffice documents, decrypts Excel and Word 97/2000 files — guaranteed access to your data, works 3 ways, using brute force, mask and dictionary attacks, automatically recovers passwords with predefined/user-defined scenarios, etc.
Downside
Accent OFFICE Password Recovery will show only first 2 symbols from recovered passwords. Also, attacks cannot be run longer than 30 minutes.
Want to check it out? Visit PasswordRecoveryTools.