O. James Samson - November 21, 2012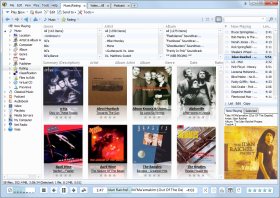 Looking for a program that can help you with your large collection of music? You should probably check out a program like MediaMonkey. It has some advanced features to help you manage your large music collection.
MediaMonkey is an easy-to-use music manager and media jukebox for serious music collectors and iPod users. The program catalogs your CDs, OGG, WMA, MPC, FLAC, APE, WAV and MP3 audio files. MediaMonkey also looks up missing Album Art and track information via Freedb and the web, and includes an intelligent tag editor and an automated file and directory renamer to organize your music library.
MediaMonkey includes a CD ripper, CD Burner, and audio converter for saving music, and manual or automated playlist editors for creating music mixes. The player automatically adjusts volume levels so that you don't have continually fiddle with the volume control and supports hundreds of Winamp plug-ins and visualizations. MediaMonkey users can also use Winamp as the default player. It also includes portable audio device synchronization that allows you to quickly synch tracks and playlists with iPods and other portable audio devices.
Downsides
MediaMonkey is best for music management; but a bit bloated when it comes to being used as a media player. Nonetheless, it is a great application especially when one considers the fact that it is freeware.
Want to check it out? Visit MediaMonkey.
This entry was posted on Wednesday, November 21st, 2012 at 10:23 am and is filed under Main. You can follow any responses to this entry through the RSS 2.0 feed. You can skip to the end and leave a response. Pinging is currently not allowed.