O. James Samson - November 28, 2012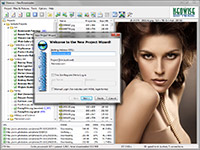 Need an application that allows you to download and view thousands of pictures from any websites (including TGP sites)? NeoDownloader  is probably what you need?
What is it about this program?
It is a freeware bulk image downloader helps you to download pictures, audio and video files. Simply drag-n-drop a link to the Drop Basket and this intelligent downloader would scour the web and download all the pictures found onto your hard disk. You can instantly see all you've downloaded and delete any unwanted files. It could also be set to download only the pictures that you've pre-determined. It is very easy to use even for beginners.
Some of the features of this program include: image filtering, image preview, a built-in image viewer and the option to set selected picture as Windows wallpaper. Other features include a powerful and intelligent web spider engine; up to 10 simultaneous connections; it can download from TGP and password protected sites. Its advanced filtering allows you to download only files that you want. You could also use any of the downloaded pictures as a Windows wall paper. This comes with an uninstaller.
Any downsides?
The full version is it! Good software to download pictures from photo sites.
To familiarize yourself with this software, please go to Neowise.
This entry was posted on Wednesday, November 28th, 2012 at 12:01 pm and is filed under Main. You can follow any responses to this entry through the RSS 2.0 feed. You can skip to the end and leave a response. Pinging is currently not allowed.