O. James Samson - December 14, 2012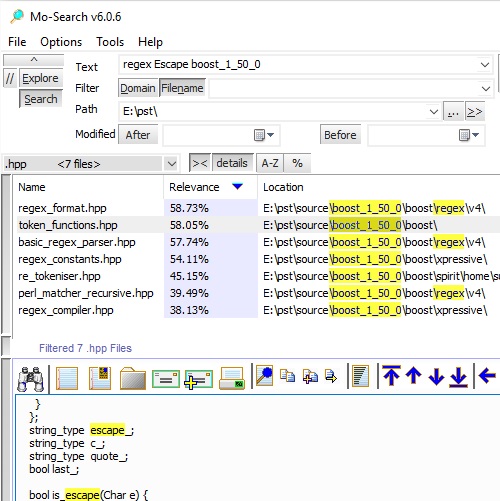 Want an app that helps you to search for applications, files or folders on your desktop? Go for Mo-Search.
What is the big deal about Mo-Search?
It helps you to search for and locate files and data on your desktop quickly and easily. It makes searching for files on your desktop very easy: just enter a search word and phrase and this app locates it for you.
Some of the key tools of this app are: search results can be listed by relevance, by name, location (path), size, modified date, and further Filter by file type; The FileViewer provides quick navigation of matching files, as well as other tools: Email (file attachment or excerpt), Print, Word Counts, File Properties, File Index, and more; The AutoIndexer continually updates your index using industry standard iFilter, plus a host of indexers. A suite of other tools are also included: Duplicate files detection and cleanup, File type analysis, Whois internet lookup, and File index analysis. It comes with its uninstaller.
MeauxSoft, the publisher of this program, has added the following new changes to this version: Optimization: Faster searching; Cleanup: UI tweaks for Registration plus match App descriptions with website and RegNow; Feature: During installation allow customization of Search paths (longstanding request) and Feature: Added PNG viewer (Also added PNG into Media: Photo domain).
Downsides?
It is a nice piece of app to have. The authors should work on the search speed.
To know more please do visit MeauxSoft.
This entry was posted on Friday, December 14th, 2012 at 9:03 pm and is filed under Main. You can follow any responses to this entry through the RSS 2.0 feed. You can skip to the end and leave a response. Pinging is currently not allowed.