O. James Samson - December 24, 2012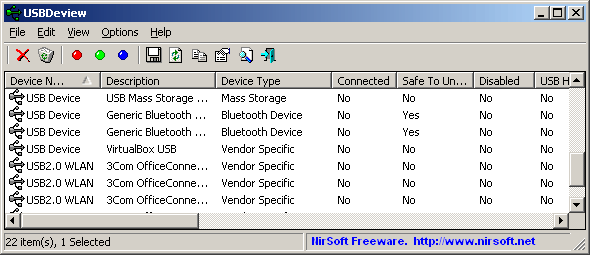 Do you need an application that allows you to keep track of all the USB devices connected to your computer? Then check out USBDeview.
What is the deal with USBDeview?
This freeware is a small but very efficient utility that allows you to keep track of all USB devices connected to your computer- both presently connected and previously connected. It displays the full information about each USB device such as Device name/description, device type, serial number (for mass storage devices), the date/time that device was added, VendorID, ProductID, the devices that has been disconnected from your computer and the time of their disconnection. It can also be used on a remote computer if you login with admin user.
This tiny application does not require installation: it runs as soon as you extract and click the program's zipped executable file, so it's easy to store on a flash drive or other device for use on any Windows PC. It has a cute user interface. It is a very effective tool to have when you want to troubleshoot a faulty USB device or connection or just want to find out what is/was connected to your computer. You can use this program to disconnect or uninstall any USB device that is connected to your computer.
This program can also be used to change the drive letter. This is particularly helpful when you want to change the list order of the drives in Windows Explorer.
Nirsoft, the publisher of this program have added the following changes to this version: update for Windows 8: It seems that on Windows 8, it's impossible to detect from the Registry whether a device is connected or disconnected, so instead of using the Registry, a device is displayed as connected if it has power/version information. Be aware
Downsides?
This is a very brilliant application. Works as advertised. Very tiny and efficient too. Kudos to the authors. To familiarize yourself with this amazing program, please visit Nirsoft.
This entry was posted on Monday, December 24th, 2012 at 6:31 pm and is filed under Main. You can follow any responses to this entry through the RSS 2.0 feed. You can skip to the end and leave a response. Pinging is currently not allowed.