O. James Samson - December 25, 2012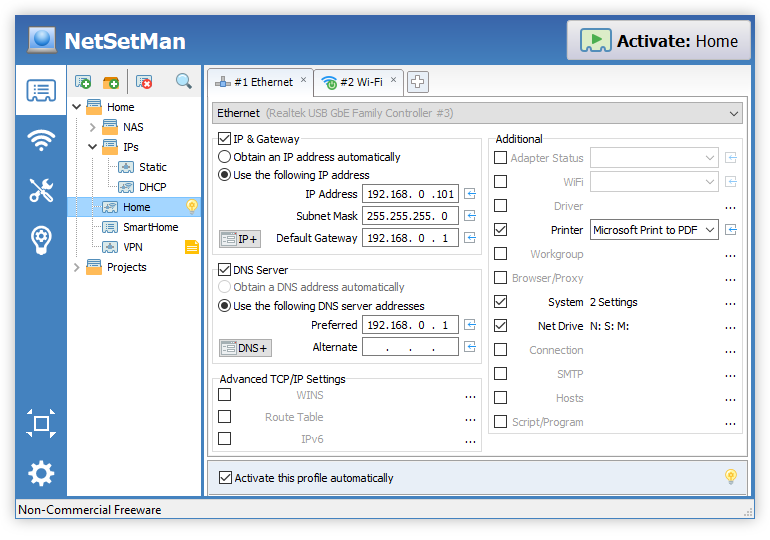 Tired of manually writing out the network settings whenever you use your computer in several places? That is what NetSetMan is here to fix.
What You Need To Know About NetSetMan:
When you use the same laptop in several places-homes, work, school- you will need to change the network settings every time you plug in the network cable. Doing this manually can be quite boring. What NetSetMan does is that it allows you to save up to 6 different network settings. You simply choose the one you want and hit the apply button. There is no need to manually write them down again as this program does it all for you on auto.
The program has a simple interface where you simply enter and save the network settings. It also offers support for WiFi, printers, workgroups, PC names and DNS domain settings. Each profile can be named based on the network so it will be easy to keep things organized. It is able to deal with several network adapters simultaneously.
Some of the key features of this program are: IP address settings, subnet Mask setting, default gateway settings, alternative DNS server settings and computer name and workgroups.
Ilja Herlein, the publisher of this program, has added a few changes to this version: fixed NSM Service didn't work with Win8 in certain cases; fixed some problems with volume/mute for speakers and microphone; fixed some activation progress bar inconsistencies and a few others.
Downsides?
Nope. It works very well especially if you travel very frequently and would need to connect to various networks very often.
To learn more about this amazing program, please go to http://www.netsetman.com/.
This entry was posted on Tuesday, December 25th, 2012 at 4:13 pm and is filed under Main. You can follow any responses to this entry through the RSS 2.0 feed. You can skip to the end and leave a response. Pinging is currently not allowed.