O. James Samson - January 29, 2013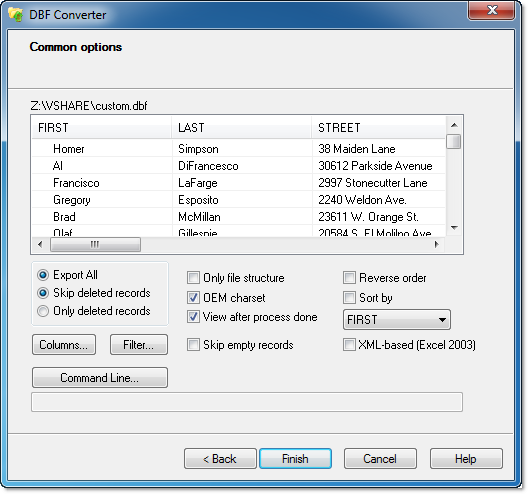 How about an application that costs just a little amount, but has the ability and features that support all modern data interchange formats like XML, CSV, TXT, HTML, RTF, PRG and others? That is what you get and much more when you have a program like DBF Converter. For a little amount of money, the application has some of the easiest features that enable you carry out all your conversion tasks with little or no stress.
What is DBF Converter?
DBF Converter is a versatile yet easy-to-use conversion program. It has a familiar Wizard-like interface but can also be used as a command-line utility for batch file processing. It supports all the modern data interchange formats, such as XML, CSV, TXT, HTML, RTF, PRG and others. You can even convert your DBF table into a set of SQL queries that can be imported into any SQL database.
DBF Converter also allows you manipulate data by selecting only specific columns and applying filters. DBF Converter dynamically builds a sample database record form. The ability to put advanced masks and rules into any field of the sample record is one of the most valuable DBF Converter features.
Downsides
DBF Converter is a shareware and has a 30 day trial period for all users.
Want to check it out? Visit DBF-Converter.
This entry was posted on Tuesday, January 29th, 2013 at 8:01 am and is filed under Main. You can follow any responses to this entry through the RSS 2.0 feed. You can skip to the end and leave a response. Pinging is currently not allowed.